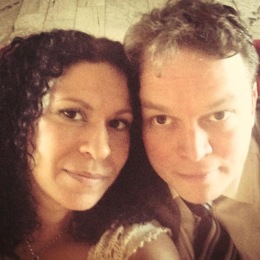 Our names are Jakop and Cherrie Granlund, and we live with our kids in a house in Kristinehamn, Sweden.

A dog is first and foremost a familymember who makes our familylife more complete. But since there are not that many AHTs in Sweden we like to contribute to the breed, both by breeding and also through our work with the breed club.
Our wish is that other families with allergies could experience the joy of having a dog. But of course you're welcome to buy a puppy from us even if you have no allergies whatsoever. This is just our way of spreading the joy!
Our kennel is named after Cherrie's sweet little grandma Ruby Nell in Longview, Texas.
We strive for quality, so it is important to us that we only breed healthy dogs, who have been examined by a veterinarian for healthy patellas and hearts, and that they are PLL and prcd-PRA Clear. And we only breed dogs that have a sweet and happy temperament, since that is also hereditary.
We are members of RAHT (the swedish breed club) and Jakop has been one of the officers of the breed club since it started. We are also members of SKK (The Swedish Kennel Club) and follow their rules and regulations.